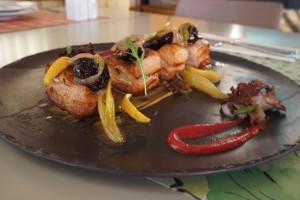 5th THESSALONIKI FOOD FESTIVAL
21 November – 20 December
"The modern cuisine of Thessaloniki"
Saturday, 21 and Sunday, 22 NOVEMBER
'CHRISTMAS MARKET AT CITY HALL':
From 11.00 to 17.00 in the foyer of City Hall, local products will be presented and sold by associations and enterprises, in cooperation with the Professionals' Chamber of Northern Greece and SEPIK (ASSOCIATION OF PROFESSIONALS OF THE HISTORICAL CENTRE OF THE CITY).
At the same time, food bloggers Angie Kalogeropolou and Marilita Hadjivassiliou will present the Greek Christmas dinner (chicken soup, cabbage dolmades, etc.) to the world.
Friday, 27 November to Friday, 4 December
'THE MODERN CUISINE OF THESSALONIKI':
40 city restaurants select and showcase a dish, which, in their opinion, represents modern local cuisine. The 10 most-requested dishes will be named as representative of modern Thessaloniki cuisine.
Monday, 7 December:
'5 THESSALONIKI CHEFS PROPOSE MODERN VERSIONS OF LOCAL CUISINE'
Presentation of the ten dishes that most represent Thessaloniki modern Cuisine. These recipes will then be included in the second Thessaloniki gastronomy guide – Food stories No 2 – ;The Modern Cuisine of Thessaloniki'.
At the same time, there will be a smartphone app presented that shows points of sale of special dietary products in Thessaloniki for specific vulnerable groups.
AGORA-ERGON Multifunctional space, 19:00.
Saturday, 12 and Sunday, 13 December
'CHILDREN IN THE KITCHEN': Gastronomic activities for children from the 2nd Municipal District, 17.00-19.00: Professional chefs will cook in the classrooms of the 66th and 67th Municipal Schools alongside the students.
Sunday, 13 December:
CHARITY BRUNCH, in cooperation with the "Action for Celiac Disease" association at Mediterranean Palace hotel from 11.00-14.00. The first-ever presentation of the map that marks the points of sale and restaurants with gluten-free dishes for special groups and residents of Thessaloniki.
Sunday, 20 December:
CHARITY BRUNCH in cooperation with the "Northern Greek Association of Parents and Guardians of Children Suffering from Cystic Fibrosis" at The Met Hotel from 11.00-14.00.